Go Back
2022 Elite 8x28' Stock
Item Location
SUNDBY'S FEATHERLITE TRAILER SALES
www.sundbystrailers.com
sales@sundbystrailers.com
16498 US HIGHWAY 10
VERNDALE, MN, 56481
(218) 445-8220
Stock No: N0019978
MSRP: $46,455
Our Price: Call For Price
| | |
| --- | --- |
| VIN: | 5MKWG2828N0019978 |
| Condition: | new |
| Year: | 2022 |
| Manufacturer: | Elite Trailers |
| Model: | STOCK |
| Floor Length: | 336" or 28' |
| Width: | 96" or 8' |
| Height: | 77" or 6' |
| Weight: | 5670.00 lbs |
| GVWR: | 19536.00 lbs |
| Axle Capacity: | 8000.00 lbs |
| Color: | Black |
Request More Info
2022 Elite 8x28' Stock
Please enter your contact information and one of our representatives will get back to you with more information.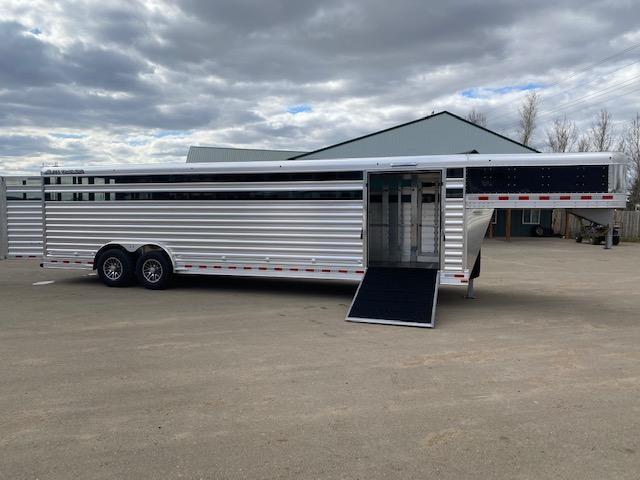 ---
8'WIDE, 6.5'HIGH, 28'LONG
SPARE TIRE, ALUM. RIMS, SIDE ESCAPE DOOR, LOAD LIGHTS OUT EACH SIDE OF TRAILER AND ALSO REAR, LOW TIE RAIL ON EACH SIDE OF THE TRAILER, SLAM LATCH ON REAR GATE OF TRAILER, DIAMOND PLATE FLOORING, INTERIOR TIE RAIL, FRONT GATE IS A ROLLING GATE, SIDE RAMP ON CURBSIDE, REAR GATE WITH SLIDER

Exterior - 2-5/16" Adjustable Coupler with Safety Chains and Breakaway Kit- Single Speed Jack- 8' Long with 2' Tapered Nose- .040 One Piece Aluminum Roof Sheet- Full Length Side Slats with Two Air Spaces and Natural Smooth Sheets
Rubber Torsion Axles with Electric Breaks
Radial Tires with Steel Wheels
Full Width Rear Gates with 1/2 Slide and Pipe Hardware
4" Rubber Docking Bumper
Marine Grade Aluminum Treadplate Floor
Escape Gate (Streetside or Curbside)
7 Way Plug and Wiring
Recessed Exterior Light Switches
LED Turn Signals at Rear
LED Dome and Clearance Lights
Components - Doors All Elite built doors are engineered with heavy duty, proprietary extrusions and constructed to allow for maximum seal. - Lighting Elite utilizes LED interior and exterior clearance lighting in all wiring harnesses. All wiring connections are plugs or are soldered, covered with heat shrink material. - Bulkhead Wall .090" smooth sheet welded on to our heavy duty wall posts. - Lining and Insulation With 4 tiers of protection, Elite Horse Trailers provide the protection from horses kicking and pawing, and help prevent sidewall damage and exterior dings. - Axles and Tires Elite uses Dexter Rubber Torsion axles with electric brakes and name brand tires. Our trailers are engineered with accurate weights that provide proper axle and tire size based on the total weight of the trailer and it's contents, including living quarters.
Hinges Elite's proprietary, heavy duty, extruded hinge is used for doors and dividers. This hinge is fitted with a brass fitting that lubricates and allows for a tighter fit with the stainless pin. This hinge is welded to the structure to give us the strongest hinge possible.
Windows Elite only uses HEHR windows. Available in many sizes and types, you can rest assured that they will be installed, worry free.
Saddle Racks The Elite built carpeted saddle racks are designed to hold a large variety of today's saddles.
Wall Rubber The wall rubber on our trailers is corded rubber matting that is able to absorb impacts that would damage lesser made products.
Carpet Marine grade carpeting is used in the tack room and other applications to assure a long life.
Structure - Top Rail Continuous 5" radius rail with an overall height of 8" and a material thickness of 3/16" with an integrated drip rail. - Drop Gusset 3/16" thickness, welded one piece gussets which add structure to provide maximum nose strength. - Drop Wall 3/16" thickness with an engineered break on the top and bottom adds strength and allows for a cleaner weld area to ensure against leakage. - Flooring Elite's floor structure consists of 4" I beams with an upper 2 1'2" flange and a lower 3" flange on 12" centers. Elite utilizes a .125" thick, 5086 marine grade sheet floor on top of the structure. - Rear Frame The rear frame is supported by a 2 1/2" x 5" upper header at a 1/4" thickness. For added strength, the rear frame side post is integrated through the floor into the bottom rail.
Aluminum Side Wall Construction 6005 T6 aluminum alloy posts with 7" posts at the drop wall, 5" x 1 3/8" at doors and dividers, and 1 3/8" x 2 1/2" for all other side wall structure posts. The exterior, 6063 aluminum interlocking extruded slat is .125 thick. Exterior smooth sheets are a 3004 aluminum alloy with a H291 temper and thickness of up to .063".
Roof Construction 1" x 2 1/2" arched roof bows with one piece, .040" thick 3003 H16 aluminum roof sheet.
Item Location
SUNDBY'S FEATHERLITE TRAILER SALES
www.sundbystrailers.com
sales@sundbystrailers.com
16498 US HIGHWAY 10
VERNDALE, MN, 56481
(218) 445-8220
Stock No: N0019978
MSRP: $46,455
Our Price: Call For Price
| | |
| --- | --- |
| VIN: | 5MKWG2828N0019978 |
| Condition: | new |
| Year: | 2022 |
| Manufacturer: | Elite Trailers |
| Model: | STOCK |
| Floor Length: | 336" or 28' |
| Width: | 96" or 8' |
| Height: | 77" or 6' |
| Weight: | 5670.00 lbs |
| GVWR: | 19536.00 lbs |
| Axle Capacity: | 8000.00 lbs |
| Color: | Black |
Request More Info
2022 Elite 8x28' Stock
Please enter your contact information and one of our representatives will get back to you with more information.
Payment Calculator
Interest rates vary by person and trailer. All payments are estimates. Tax, title and any other fees are extra.
Other Recommendations